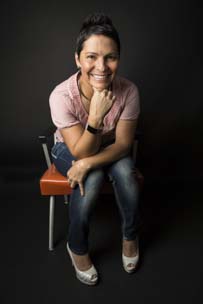 "Sometimes when you realize you have nothing, it will lead to having everything," Cook said.
AUSTIN, Texas — She started life in an orphanage and grew up to become a multi-millionaire, and she did it with salsa.
"When we are born and raised into societies where all you see is bad, sometimes you think there's no good outside of what you're born into," said Magdalena Delacruz Cook Garcia, creator of Maggie's Salsa.
It was a tough upbringing for Cook-Garcia, who grew up in Michoacán, Mexico alongside 68 'brothers and sisters' in an orphanage.
"I did things out of the ordinary to see if I can create a motion of something new," Cook said.
Garcia immigrated to the U.S. on a college basketball scholarship, only to find herself homeless after college.
A lucky break gave her the opportunity to enter and win a state salsa competition and opened the doors to live a life as an entrepreneur.
"When I entered the salsa contest, it took over, and when I got the salsa contract, the rest was history," Cook said.
It was the fire within her that led to making award-winning salsa.
"In 2015 it was sold to Campbell's," Cook said, that's when her salsa was introduced to 38 different states and supermarkets all over the nation.
Her struggle then became part of her past.
"It grew and turned into a multi-million dollar business," Cook said.
Cook spoke to dozens of students at Concordia University in Austin on Friday morning.
"I think it's important to forget the past and recognize how far we can go," said Concordia student Kelsey Rodriguez.
For more:
https://www.kvue.com/article/news/woman-who-went-from-living-in-an-orphanage-to-making-millions-by-selling-salsa-speaks-in-austin/269-4cf06e8a-b497-4f11-9f55-d590d2ea9e7d?fbclid=IwAR2r215sG2fkWe1mp1e4p3LWrNCWgelV-IYVRaPev-tpCL9w7lt_eh2kLVU